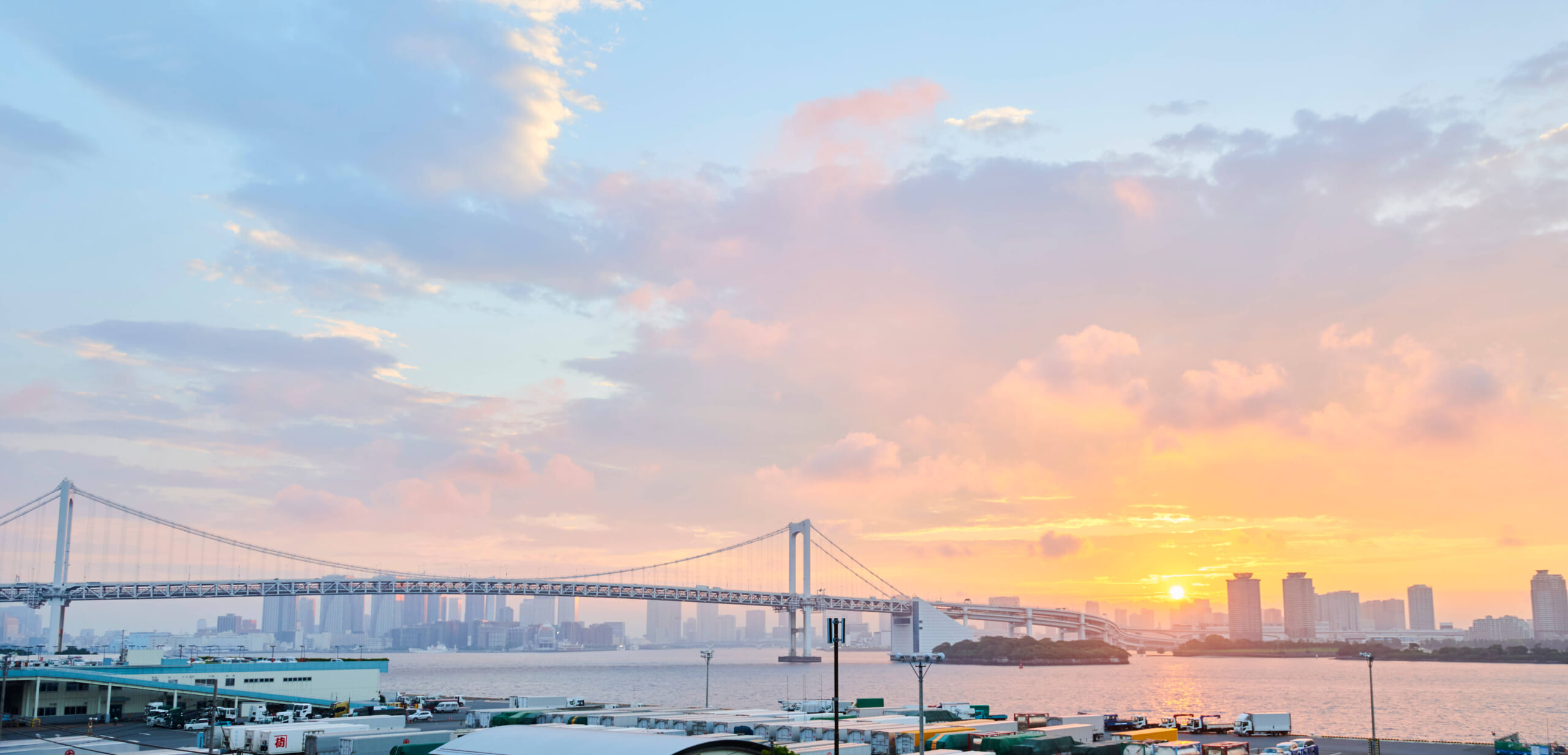 取引様態:売買(売主)
空と海を背景にした、ノイズのない景色
当物件は、品川埠頭の岸壁(船を係留する施設)の真正面に位置します。東京湾方面には視界を遮る建物がありません。目に入るのは、コンテナを降ろす船、凪いだ内海、お台場や晴海の高層ビル群、曲線が優美なレインボーブリッジ。その奥には、もう陸地はありません。ただ空と海だけが広がります。
その景色をより際出せるのが朝日です。レインボーブリッジの袂から昇る太陽は、建造物のシルエットを浮かび上がらせ、色鮮やかに染めていきます。東京湾屈指のドラマチックな朝日を独り占めできます。
観光地化されていない、プレーンな港街
品川埠頭は、国内初のコンテナ埠頭として誕生し、現在でも東京港内で有数の係留数と貨物取扱量を誇る、ビジネスインフラです。周辺区域は物流会社や倉庫が立ち並んでおり、当物件ももともとは物流会社のオフィスビルが建っていました。お台場と違い、商業施設や飲食店はほとんどなく、街に響く音も陽気なBGMではなく、荷積みするクレーンの音やトラックの走るインダストリアルな音が中心です。
そんな街並みを味気ないと感じる人もいるかもしれません。その反面、商業的な脚色がされておらず、観光客が大挙することもない立地を好ましく受け取る方もいるでしょう。素朴な土地だからこそ、新しい個性を生み出せる余白があります。
ビジネス利便性も高いロケーション
落ち着いた雰囲気の街ですが、利便性も決して低くありません。最寄り駅はJR品川駅。自動車で約5分、徒歩でも約20分で駅前まで到着します。
都内で5番目の乗降客数を誇り、新幹線発着駅でもある品川駅周辺は、SONYや三菱重工業、日本マイクロソフトなどの大企業のオフィスが入居するビジネス街です。
羽田空港も自動車で15分足らず。国内外の移動が多いビジネス・エグゼクティブにとっても魅力的な立地と言えます。
更地から好みの物件を創り上げる
当物件は、既存のビルを取り壊し更地にした後に新しい建物を建設する計画ですが、当面の間は更地で販売しております。オーナー様のお好みの物件を創り上げることが可能です。
An unobstructed view of the sky and sea
The property is located directly in front of the Shinagawa Pier quay, a facility for mooring ships. There are clear views out to the Tokyo bay, with no obstructions of surrounding buildings. The views that are in site include the unloading cargo ship containers, the serenity of the calm inlet, the skyscrapers of Odaiba and Harumi, and the curvature of the rainbow bridge. Beyond these views remains the unobstructed view of the sky and the sea.
The key time of day for the view is during sunrise, when the sun rises over the rainbow bridge and casts a shadow over the surrounding buildings while the sky gradually changes in color. This is one of the most dramatic and memorable sunrises in Tokyo Bay, and you can have it all to yourself.
A plain, non-touristy port town
Shinagawa Wharf was the first container wharf in Japan and is still one of the largest business infrastructures in the Port of Tokyo in terms of the number of moorings and the volume of cargo handled. The surrounding area is lined with logistics companies and warehouses, and this property is originally an office building for a logistics company. Unlike Odaiba, there are almost no commercial amenities or restaurants, and the sounds echoing through the streets are not of the typical bustling city noise, but mainly industrial sounds of cranes and trucks moving.
Some may find such a townscape undesirable. On the other hand, there are those who may prefer a location that has not been commercially developed and that does not attract herds of tourists. As it is more of a primitive area, there is opportunity to create something that has a distinct character and individuality.
Convenient business location
Despite its relaxed atmosphere, the area is not lacking in convenience. The nearest station is JR Shinagawa Station. It takes about 5 minutes by car or 20 minutes on foot to reach the station.
The area around Shinagawa Station, which boasts the fifth largest number of passengers in Tokyo and is also a Shinkansen station, is a business district with offices of major companies such as SONY, Mitsubishi Heavy Industries, and Microsoft Japan.
Haneda Airport is less than 15 minutes away by car. It is also an attractive location for business executives who frequently travel domestically and internationally.
Building a property of your liking from a vacant plot of land
Currently, the property is being sold as a vacant building but there are plans to demolish the existing building and construct a new one. This provides an opportunity for the owner to build a property to their liking.